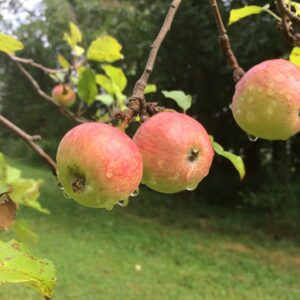 Our orchard is a hodgepodge of heritage and early commercial apples. Currently the orchard holds over thirty varieties of trees on mixed root stocks and spans over thirty five acres.
The project began with rehabilitating the property's original orchard in 2008. The collection grew to include varieties with historical significance to the northern Great Lakes and Maritimes; as well as a few family favourites and special requests.
The majority of our trees are grown slowly on standard and semi-standard root stocks to anchor deep into our heavy clay soils. This makes the orchard an ongoing, long-term project that we hope will keep these varieties fruiting for years to come.
– Our Current Trees Include –
Annie Elizabeth: Leicester, England- 1850
Baldwin: Massachusetts, USA- 1780
Bellefleur de Brabant: Netherlands- late 1700s
Black Oxford: Maine, USA- late 1700s
Blue Pearmain: New England- 1700s
Bottle Greening: New York, USA- 1800s
Bramley: Nottinghamshire, England- 1809
Calville Blanc d'Hiver: France- 1700s
Canadian Strawberry: Maine, USA- 1995
Cox Orange Pippin: England- 1825
Duchess of Oldenburg: Russia- 1700s
Egremont Russet: England- 1872
Fameuse (Snow): Quebec, Canada- early 1600s
Foxwhelp: Gloucestershire, England- early 1600s
Frostbite: University of Minnesota- 1921
Ginger Gold: Virginia, USA- 1969
Golden Russet: American- 1800s
Gold Rush: American- 1993
Granny Smith: New South Wales, Australia- 1868
Gravenstein: (N.S. scions) Denmark- 1600s
Hawkeye: Iowa, USA- 1870
Herefordshire Redstreak: Herefordshire, England- 1600s
Honey Crisp: (don't judge!)
Johnny Appleseed- American NY-EDU grafts
Kingston Black Cider: Somerset, England- 1800s
Liberty: New York State Ag Experiment Station- 1955
Northern Spy (King): New York, USA 1840s
Reinette du Canada: Normandy, France- 1700s
Roxbury Russet: USA- 1600s
St. Lawrence: Montreal, Quebec- 1800s
Tolman Sweets: New York or Quebec- 1820s
Many more unknowns, TBDs, and delicious windfalls.